Local. Trusted. Family Owned.
Roof Pressure Washing
Lufkin, TX Residents Trust
Did you know that the black streaks on your roof could be causing harm? The black streaks on your roof are algae. Even though these streaks are often overlooked due to looking like dirt, when you notice the streaks, it's important to get them cleaned sooner rather than later. The sooner that it's cleaned, the better, especially if your roof has shingles. Over time, algae will feed off of the asphalt's limestone, weakening the roof's structure. This is not only not aesthetically pleasing, but it can cause some shingles to detach. As a result of algae damage, your roof may be less able to reflect sunlight, causing more heat to be radiated throughout your home. At Lopez Pressure Wash, we use a roof soft washing technique that involves utilizing a low-pressure application process that carefully removes organic materials from your roof without damaging any shingles. 
With regular roof power washing services, you are eliminating the risk of moss, algae, and mold from growing on your roof. There are several other advantages of our power washing roof services, such as; improving the aesthetic appeal of your roof and home, restoring the color of your roof, exposing repairs that are needed, and more. At Lopez Pressure Wash, you can trust that we will provide you with top-notch services and results. If you've been searching for Lufkin roof washing near me, your search is over. We provide the best roof pressure washing Lufkin, TX offers.
Searching for Lufkin
Roof Washing Near Me?
Once the organic materials have built up on your roof, they can cause quite a few problems such as; health issues, roof rot, and other costly repairs. If your roof begins to rot, you are likely to have an infestation of pests, critters, and bugs, since rot makes it easier for them to chew through your roof. This can all be prevented by having a roof washing company perform regular cleanings. With regular roof power washing, you can prevent minor issues from becoming dangerous ones, and you can stay aware of any repairs that need to be done.
Oftentimes, homeowners try to clean their roofs; however, that can be dangerous, and they don't have the products and equipment that professionals have. This means that their roof won't be as thoroughly cleaned. At Lopez Pressure Wash, we also understand the techniques that should be used. The soft washing technique is used on your roof if it has shingles, that way it can safely but effectively clean your roof without causing harm. Using a high-pressure level can cause damage to your roof by removing shingles, and it can cause discoloration. Let us take the stress out of washing your roof for you. When it comes to the roof washing cost, it's not only affordable, but we make the whole process simple and hassle-free for you. The cost is a lot less expensive than the cost of repairing or replacing your roof. For a price estimate that's tailored to the services you need, we provide a free quote so you can get an accurate price estimate. With our quote, you will be able to see why we provide roof washing Lufkin, TX locals swear by.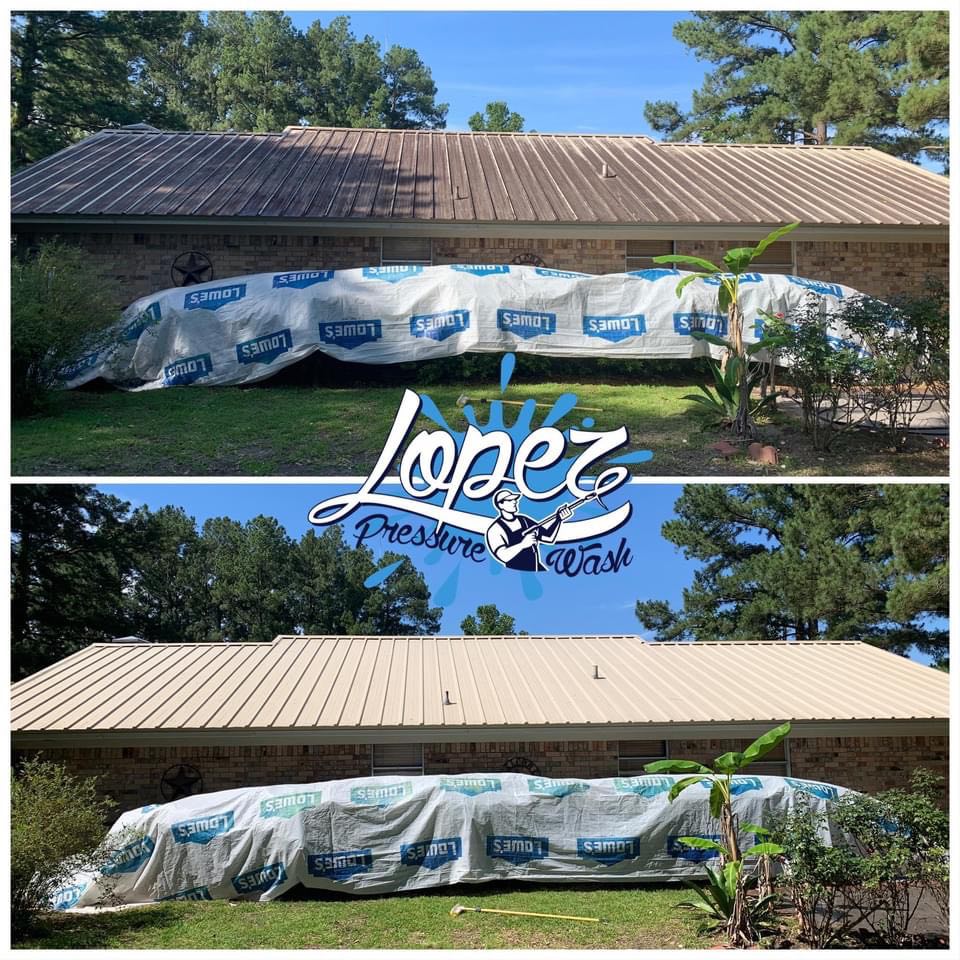 Local. Trusted. Family Owned.
Professional Roof Soft Washing
Call Today for Lufkin
Roof Power Washing Near Me
Have you been looking for roof power washing near me? There are many benefits when it comes to regular roof cleanings, including; improving the curb appeal of your roof, preventing pest infestations, and more. At Lopez Pressure Wash, we have the experience, techniques, and training needed to ensure that you have the best customer experience and results possible. For more information on our roof washing services or for a free quote, contact our team today!