Local. Trusted. Family Owned.
Pressure Washing Lufkin, TX
Searching for Lufkin
Pressure Washing Near Me?
A professional-quality pressure washing service from Lopez Pressure Wash can revive your driveway, roof, deck, patio, and more, removing years of built-up grime, debris, dirt, etc. The results of our pressure washing services will astound you and make your home or business look as good as new. Have you been searching for power washing companies near me? Your search is over with our professional team, as we provide the best pressure washing Lufkin, TX has to offer.
You'd be shocked at all the things that our power washing services can give new life to. We can restore the outside of your home or business and improve its curb appeal. At Lopez Pressure Wash, we are a licensed, insured, and reliable pressure washing business that uses only top-of-the-line products and equipment when cleaning the outside of your home or business
Power Washing
Lufkin, TX Residents Trust
Your home's exterior surfaces are exposed to harsh outdoor elements and organic materials like moss, mold, algae, lichen, and mildew. Over time, these organic materials can spread and build-up, which can cause health issues for you and your loved ones. Health issues caused by organic materials include respiratory issues and allergies. With our pressure washing services, we can restore and refresh the outside of your home and business while carefully removing those organic materials. Regularly cleaning the outside of your home or business not only protects it from deterioration but can also add value to your property.
Our residential services are capable of revitalizing your home, making it shine again. Our residential pressure cleaning services include; house washing, roof cleaning, deck and patio cleaning, fence cleaning, and more. Whichever residential service you need, we can help. For our commercial pressure washing services, we offer building washing, concrete washing, apartment pressure washing, and more. When it comes to your business, it's important that your commercial building is in excellent condition at all times. It's important that your customers, employees, and tenants feel comfortable walking into your building. If your commercial building is dirty and covered in algae, it could relay the wrong message. Have you been looking for a Lufkin power washing near me? Look no further, as we offer power washing Lufkin, TX locals swear by.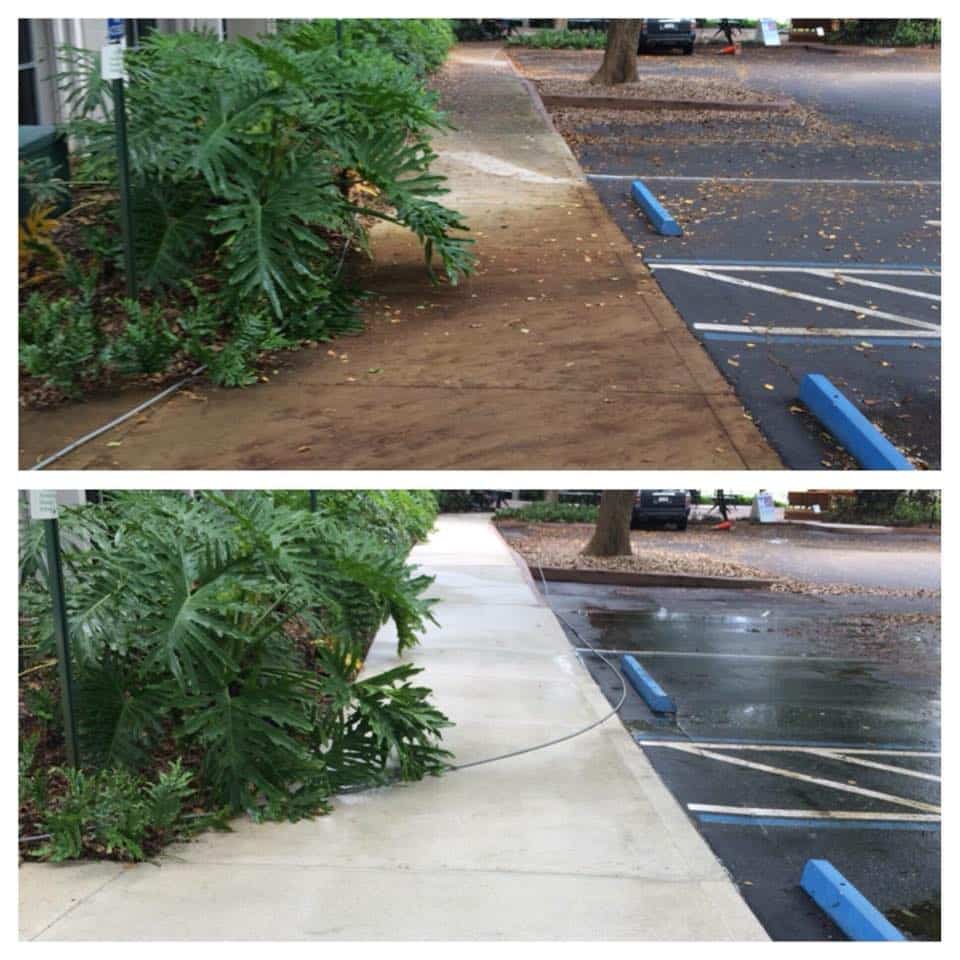 Local. Trusted. Family Owned.
Professional Pressure Washing Services
Call Today for
Lufkin Power Washing Near Me
One way that we can remove dirt, grime, and organic materials from the outside of your home and commercial building is by using a soft washing technique. Soft washing uses a low-pressure water method to clean the exterior surfaces of a home or commercial building without causing damage. High pressure is typically used on harder surfaces, including concrete and brick, while a soft washing technique is used when cleaning your windows, gutters, and siding, which protects these surfaces from harm. With our team, you no longer need to search for power washing companies near me. We've got you covered, as we know the appropriate technique to use on each surface. This is important, as using the wrong technique could cause damage.
Is your home or business dirty and looking grungy? Keeping your property in good condition is important because it reduces the likelihood of repairs, increases curb appeal, saves you money on potential damage costs, eliminates health risks, and more. Keeping your property clean is essential, which is why regular cleanings are necessary. Have you been searching for Lufkin pressure washing near me? Look no further than our team! At Lopez Pressure Wash, we provide professional, affordable, and trustworthy residential and commercial pressure washing services to restore your property and bring it back to a like-new condition. Contact us today for more information on our pressure washing services in Lufkin, TX!