Local. Trusted. Family Owned.
Searching for Lufkin
House Washing Near Me?
Everyone wants their home to stand out; however, when the outside of your home is dirty, it stands out for the wrong reasons. Every property could use pressure washing to keep it clean and clear of organic materials that could break down the materials of your home. Also, there's no better feeling than feeling as though you are living somewhere that is clean, refreshed, and safe. At Lopez Pressure Wash, we can help bring the outside of your home back to life and keep it well-maintained with our house pressure washing services. Have you been on the hunt for house pressure washing near me? Look no further, as we provide the best house washing Lufkin, TX has to offer. 
We could all use a reset button now and then, and Lopez Pressure Wash can do this for your home exterior. Lopez Pressure Wash is an insured, licensed, and professional power washing house company, so you can feel confident and comfortable with our professional team working around your home. You can trust that we will safely and effectively clean your roof without causing damage. With our team, you no longer need to search for Lufkin house washing near me.
Soft Washing
Lufkin, TX Residents Trust
Our soft washing technique gives your home the treatment it needs and deserves to look as good as new, without needing to invest in an expensive siding replacement project. Our exterior house washing service allows us to eliminate dirt, grime, algae, mold, and mildew, and extract stains that stand out on your sidings. It's essential not to contact just any company to clean the outside of your home, as traditional high-pressure washes can loosen roofing tiles, shatter windows, chip soft brick, and dent aluminum siding. Having a company that is well-versed in what techniques to use is essential. You can trust that we will get your home's exterior surfaces spotlessly clean and keep them free of damage. If you've been looking for soft washing near me, your search is over with Lopez Pressure Wash. Our team provides soft washing Lufkin, TX locals swear by.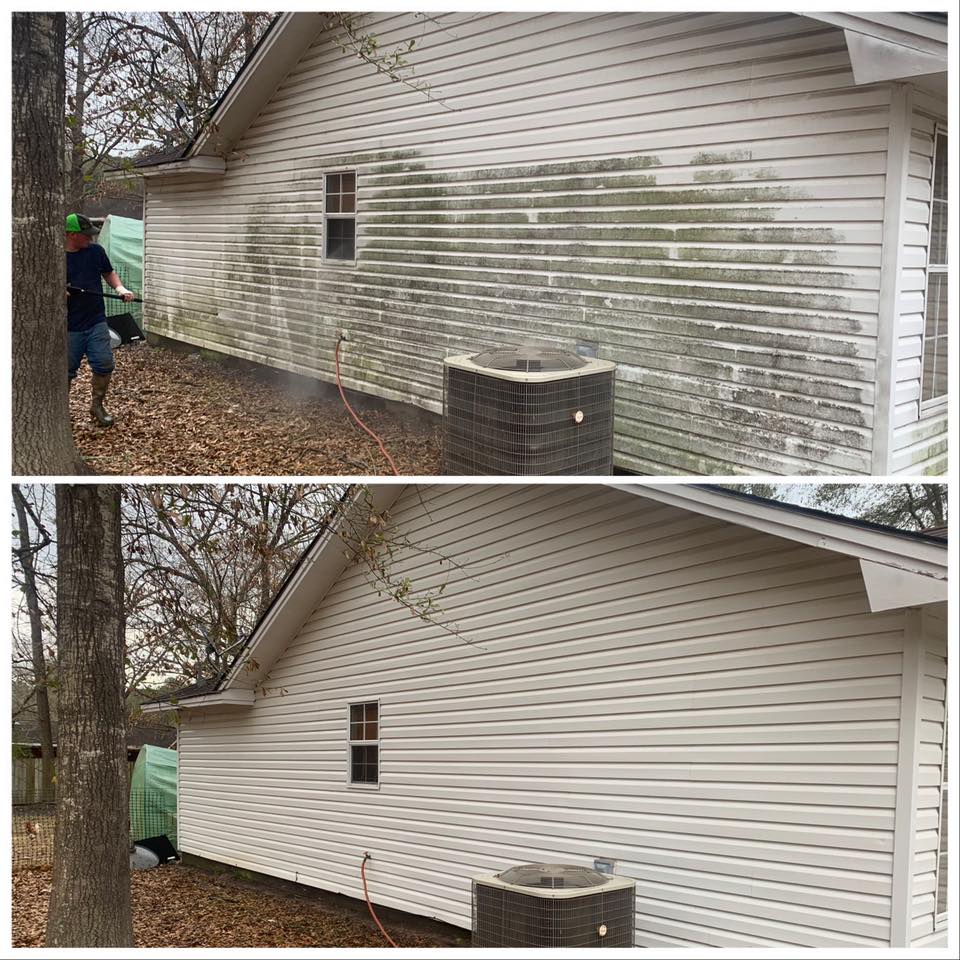 Local. Trusted. Family Owned.
Professional House Pressure Washing
Call Today for
Lufkin House Power Washing Near Me
Rather than watch the beauty of your home fade over time, you can stop the fading in its tracks with our pressure washing house services. With organic materials and allergens invading the outside of your home, it's only a matter of time before deterioration and discoloration set in. With regular soft wash cleanings, we can eliminate the risks that come with organic materials growing on the outside of your home, which include damaging your home's materials and health problems. The health issues that are connected to mold, mildew, and algae on your home are allergies and respiratory problems. By not keeping up with maintenance, those surfaces will likely give in to wear and tear and will need to be replaced quicker than those that are well-maintained and regularly cleaned.
Does the outside of your home seem dull? Are you afraid that your home is losing its shine? You can't trust your home with just anyone, as the purpose of power washing is to prevent damage. You don't want to have to repair your home's siding because they aren't versed in the techniques that should be used. Have you been looking for house power washing near me? You no longer need to look, with the help of our team. At Lopez Pressure Wash, you can count on us to provide professional, convenient, affordable, and dependable house washing and soft washing services. To learn more about our house washing and soft washing services, the other services we provide, or for a free quote, reach out to us today!