Local. Trusted. Family Owned.
Roof Washing Livingston, TX
Roof Pressure Washing
Livingston, TX Residents Trust
The primary job of a roof is to keep you and your family protected from the outdoor and weather elements. However; since they are regularly exposed to the elements, they can quickly become coated in dust, dirt, and debris. This not only makes your roof unappealing to look at, but it can trim the lifespan of your roof. This is where our roof power washing services come in. Pressure washing can eliminate the build-up on your roof and make it look as good as new again. With routine power washing roof services, you can improve curb appeal, reveal if any repairs need to be done, and more. Have you been on the hunt for roof power washing near me? Lopez Pressure Wash is here to provide the best roof pressure washing Livingston, TX has to offer.
Searching for Livingston
Roof Washing Near Me?
With regular roof power washing services, you are preventing organic materials such as; mold, moss, and algae from growing on your roof. There are other advantages of our power washing roof services, like exposing repairs that may be hiding under the organic materials, improving the look of your roof, restoring the color of your roof, etc. You can expect that Lopez Pressure Wash will deliver you high-quality services and results. If you've been searching for Livingston roof washing near me, your search is over. We provide the best roof washing Livingston, TX offers.
Costly repairs, roof rot, and health problems can be a result of organic materials building up on your roof. When your roof begins to show signs that it's rotting, more than likely, you are going to have a pest, bug, and critter problem. This is because they are attracted to the rot since it makes it easier to chew through. The good news is this can be avoided with routine cleanings. Power washing your roof regularly can keep minor issues from becoming dangerous ones, and you can stay on top of any repairs that need to be done.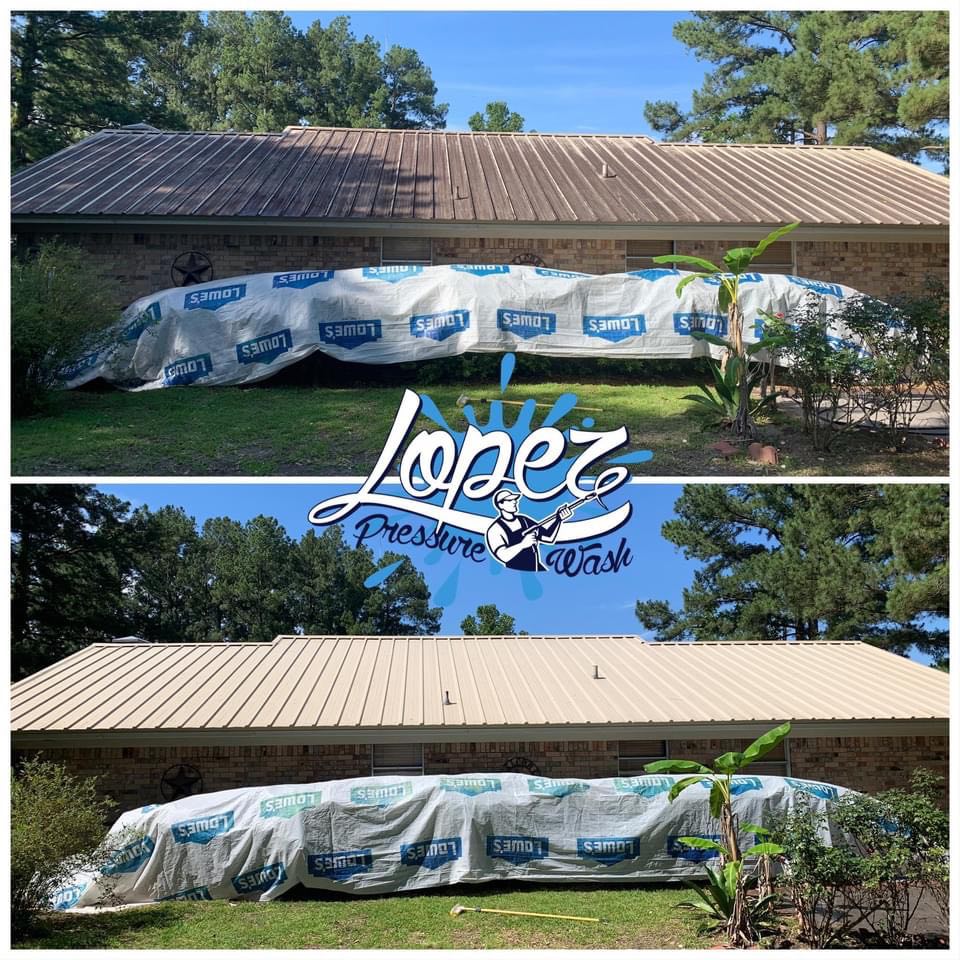 Local. Trusted. Family Owned.
Professional Roof Soft Washing
Call Today for Livingston
Roof Power Washing Near Me
It's not uncommon for homeowners to try do-it-yourself home projects. However, when it comes to power washing your roof, it's best if you leave this project to the professionals. Not only do most homeowners not know what to do, but they also don't have the proper tools and products that a roof washing company has. This means that their roof won't be as thoroughly cleaned, and there's a risk that they could damage their roof. When it comes to your roof, a certain technique needs to be used, and it's the roof soft washing technique. Soft washing is a low-pressure water application process that can safely and effectively remove organic materials on your roof without damaging any materials or shingles. When using a high-pressure water application on a roof with shingles, can cause damage to your roof by removing the shingles, and it can also cause discoloration. For the roof washing cost, you can rest assured knowing that it's affordable. You will also have peace of mind knowing that your roof is in good hands, compared to cleaning it yourself. For an accurate price estimate that's tailored to the pressure washing services you need, we provide a free, no-hassle quote so you can get a precise price estimate.
At Lopez Pressure Wash, we offer many different services to help you maintain a clean, healthy, and attractive roof and property. Routine roof cleanings provide a variety of benefits, including improving curb appeal for your roof, preventing pest infestations, etc. For more information on our roof washing services or for a free quote, make sure you contact our team today!