Local. Trusted. Family Owned.
House Washing Livingston, TX
Searching for Livingston
House Washing Near Me?
Imagine the outside of your home being transformed without having to perform any repairs, replacements, or even without needing to repaint. If your home seems dirty and dull, you would be surprised what a thorough cleaning could do for it. Exterior house washing has the power to revive and freshen up your home, and it can also prolong the life of your home's materials. Have you been searching for house pressure washing near me? Your search is over with Lopez Pressure Wash! 
With Lopez Pressure Wash, we are a licensed, insured, and trusted house pressure washing company, which means that when working on your home, you can trust us to use only top-quality products and equipment when cleaning the outside of your house. You can also trust us to handle the job professionally and safely. We will make sure the whole process is a smooth and easy one for you. If you've been looking for house power washing near me, you no longer need to search as we offer house washing Livingston, TX locals swear by.
Soft Washing
Livingston, TX Residents Trust
There is no doubt that organic materials and allergens can invade the outside of your home, causing quite a few problems, such as discoloration, deterioration, and health problems. However, there's something you can do about this. You can stop these issues in their tracks with our power washing house services. The health issues that are connected to mildew, pollen, mold, and algae in your home are respiratory issues and allergies. Those surfaces will more than likely give in to wear and tear and will need to be repaired or replaced, if not well-maintained or properly cleaned. With routine soft wash cleanings, we can safely eliminate the organic materials growing on the outside of your home, which will keep your home in good standing, and we can eliminate the health risks that go along with the organic materials. This will keep you and your loved ones safe and healthy.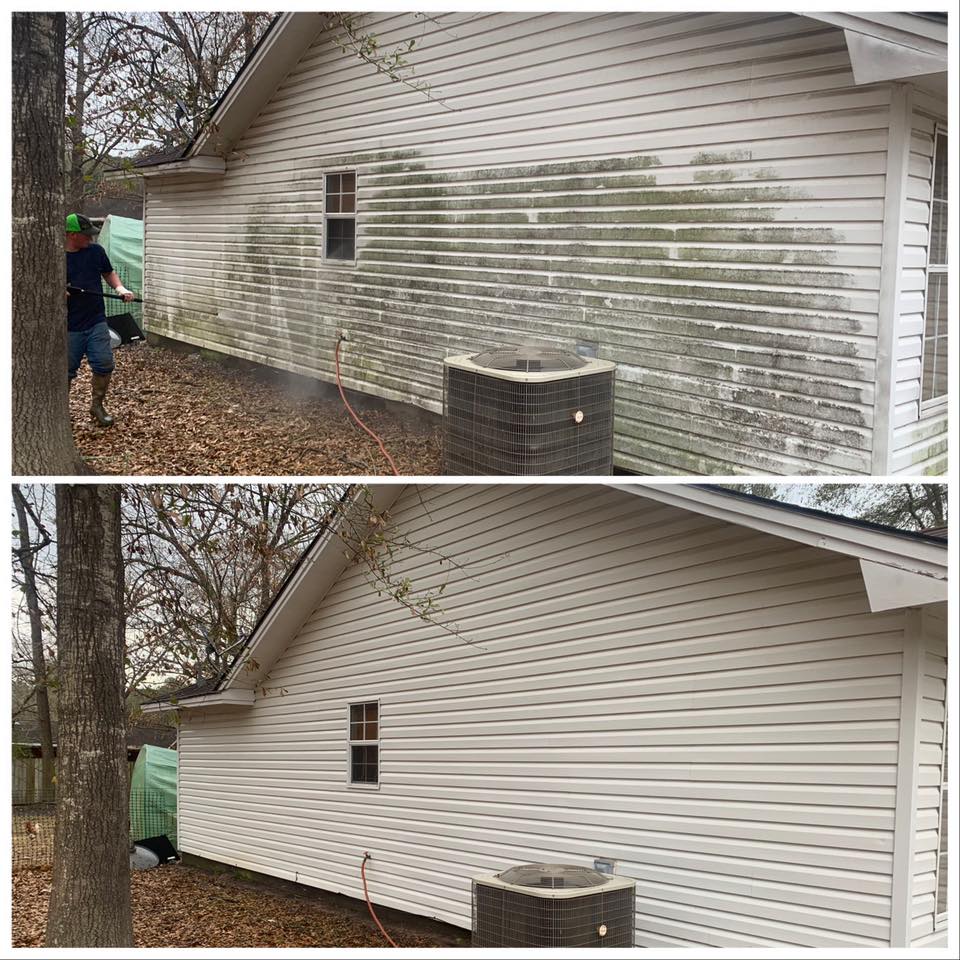 Local. Trusted. Family Owned.
Professional House Pressure Washing
Call Today for
Livingston House Power Washing Near Me
Our soft washing service gives your home and its siding the remedy it needs to look as good as new without having to invest in costly repairs and replacements. Soft washing involves using a low-pressure water method on your home to safely and effectively clean it without causing harm. Soft washing is typically used on fragile materials such as; your windows, siding, roof, and more. Choosing a company that knows what techniques to use is critical. If the wrong technique is used, it could cause costly damage to your home. Our pressure washing house services are capable of eliminating stains, dirt, grime, algae, mold, mildew, and pollen that stand out on the outside of your home. You can count on us to keep your home's exterior surfaces clean and free of damage. Our team provides soft washing Livingston, TX locals swear by, so if you've been looking for soft washing near me, your search is over with our excellent team.
Would you like the outside of your home to stand out and shine again? If you want to restore the outside of your home so it looks as good as new, getting routine pressure washing services is ideal. Have you been on the hunt for Livingston house washing near me? With Lopez Pressure Wash, your search is over! When cleaning the outside of your home, you can rest assured knowing that we are committed, professional, and trustworthy. In addition, we only use high-quality equipment and products when pressure washing your home. Make sure you reach out to our team today for more information on our house washing services or a free quote!