Local. Trusted. Family Owned.
House Washing Cleveland, TX
Searching for
Cleveland House Washing Near Me?
Not every House Washing in Cleveland, TX service, is the same. Lopez Pressure Wash, the top locally owned Soft Washing in Cleveland, TX, cleaning company on the Gulf Coast, is the company you can trust with your house or place of business. We are experts at cleaning all of the external surfaces of your property. Our soft washing procedure restores the "like new" condition of your siding, roof, and other exterior components. Our power washing house equipment provides the cleanest driveways, patios, and pool decks. Simply put, the safest and most efficient way to complete house pressure washing for the outside of your home is to use our tools and supplies in conjunction with our team's significant expertise and unique procedures. Our primary focus is exterior house washing.
The exterior of your building will be cleaned by Lopez Pressure Wash's team of professionals using a technique called soft washing. It is a kind, non-abrasive, and very effective technique to maintain the siding of your home for many years. The safest and most efficient technique to clean homes and businesses is known as "soft washing," which involves using chemicals, soaps, and low water pressure to ensure that no damage is done to your property. This is the most used approach for cleaning homes and businesses in the industry. Stucco, wood, dryvit, tough board, vinyl, and brick-and-mortar can suffer significant damage from excessive pressure. By using water pressure akin to that of a garden hose, this procedure enables us to work cautiously and safely. We blend specialized cleaners with our exceptional washing machinery. The algaecides in our patented mixture eliminate even the most tenacious accumulations of dirt, grime, and other environmental contaminants. Call today for house washing Cleveland, TX residents love!
Soft Washing
Cleveland, TX Residents Trust
If you need a house washing Cleveland, TX company that you can trust, look no further. Over the past few years, we have provided pressure washing house cleaning services for thousands of homes. We have cutting-edge equipment. Because of this, we can pressure wash or gently wash almost any house without ever leaving the ground. This is safer not only for us but also for your House. For a safe and successful cleaning of your home or place of business, we know how much pressure to apply. Additionally, with the proper training, we can clean most homes in two to three hours, keeping you from being bothered all day. Many homes can even be soft, or pressure washed in under two hours.
Cleveland, Texas, has everything you need, whether you're looking for magnificent encounters with nature or plain old-fashioned fun. This region of the Lone Star State is home to stunning woodlands, tranquil lakes, and ponds that offer a welcome respite in the spring and fall and much-needed refreshment in the summer. Cleveland is attractive due to its natural beauty and diverse culinary scene, including several quaint eateries perfect for catching up with old friends and creating new ones. The Sam Houston National Forest, one of only four in Texas, is located partially within the confines of Cleveland. Camping is one of the most remarkable ways to enjoy the forest, and you can do it at the Double Lake Recreation Area, which is close to Cleveland.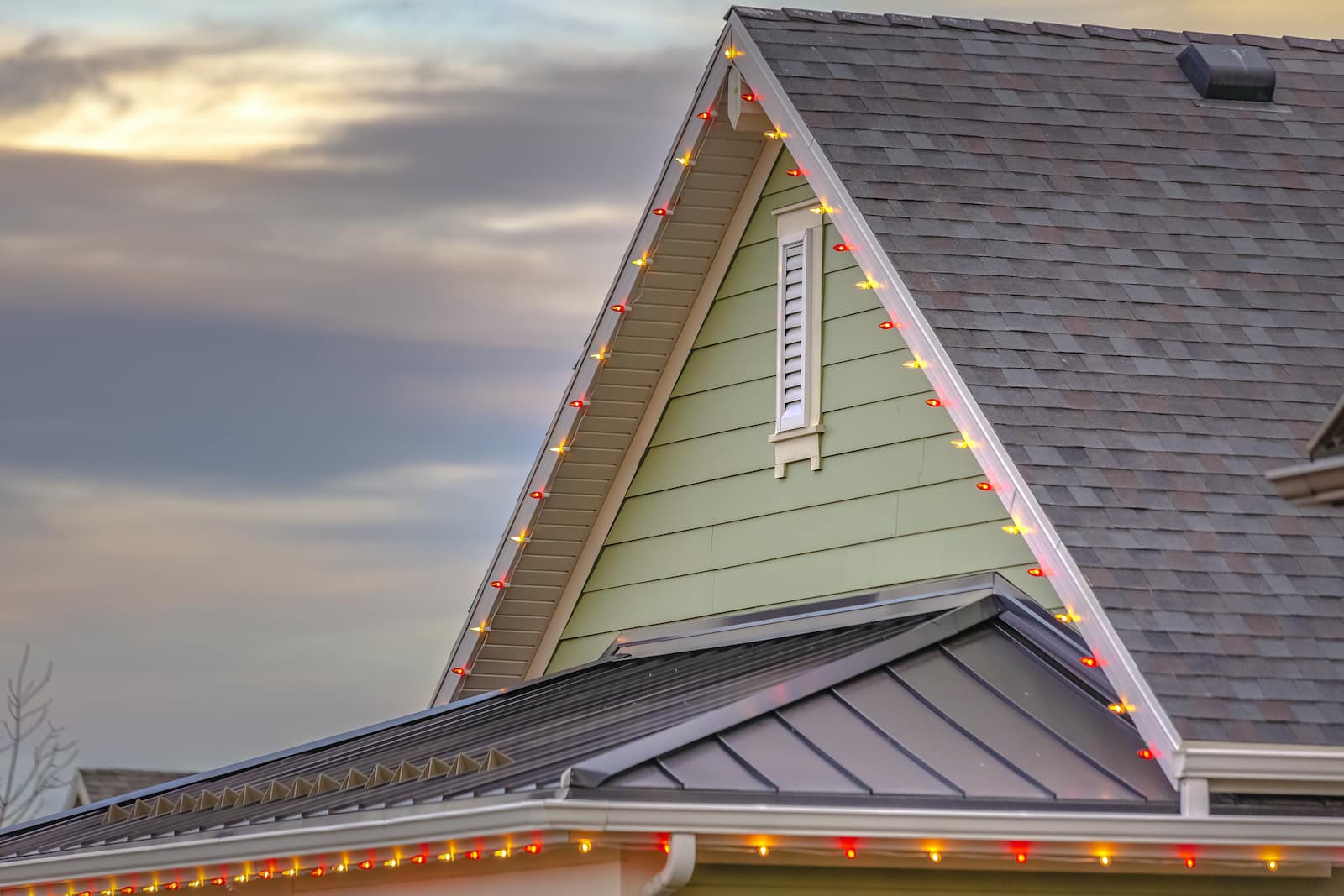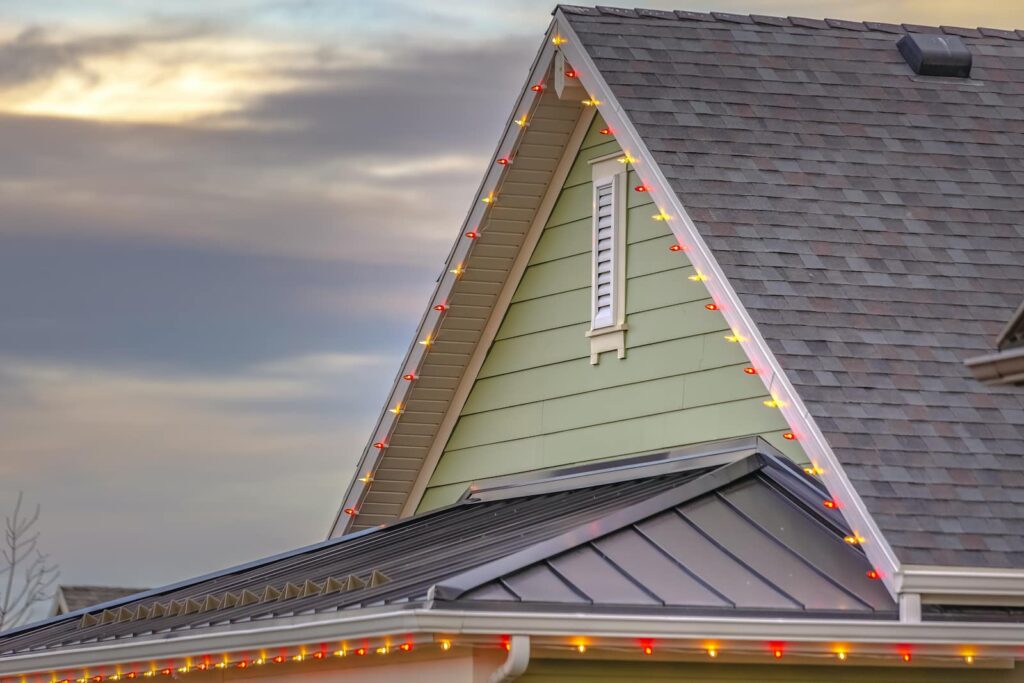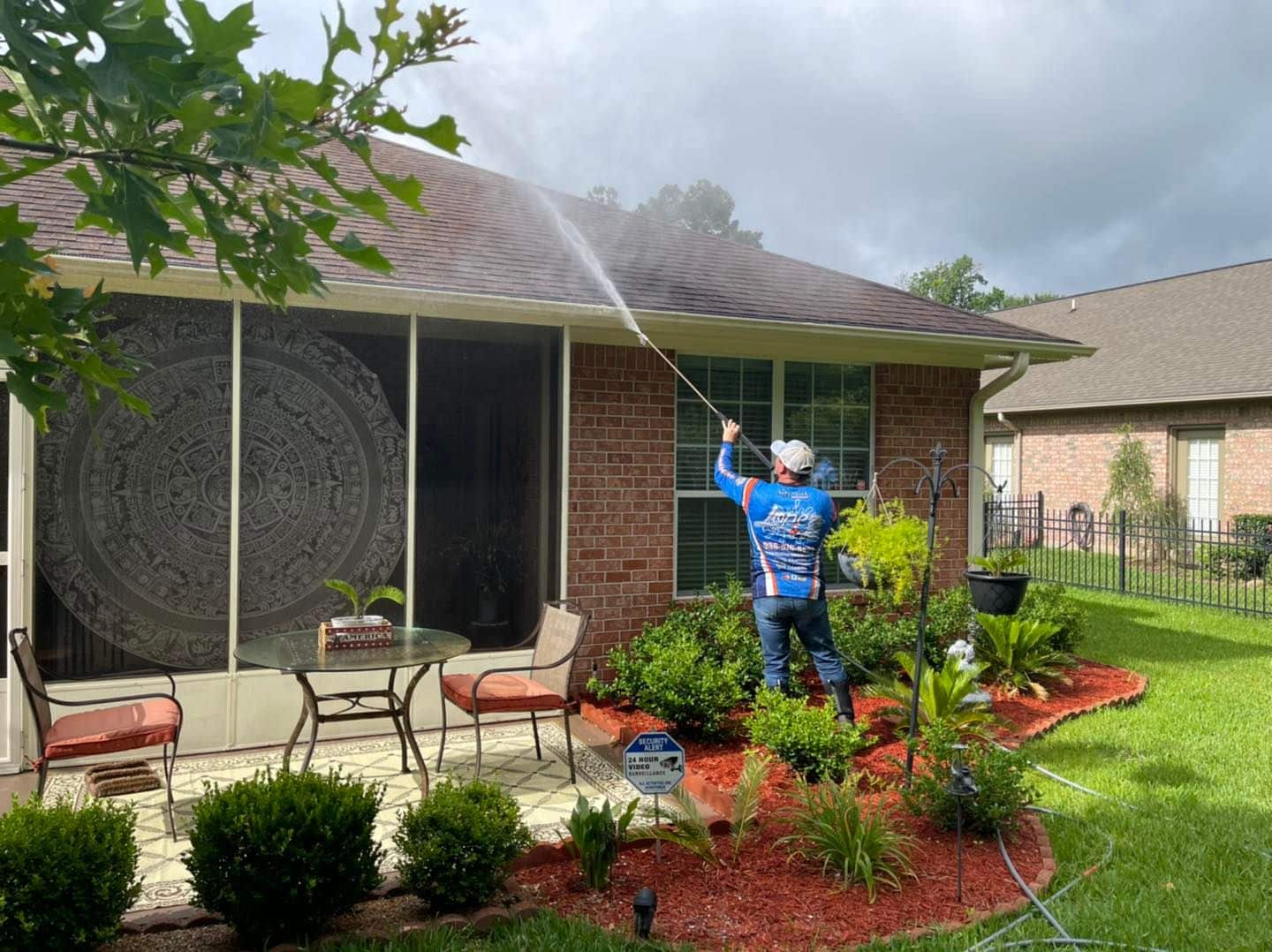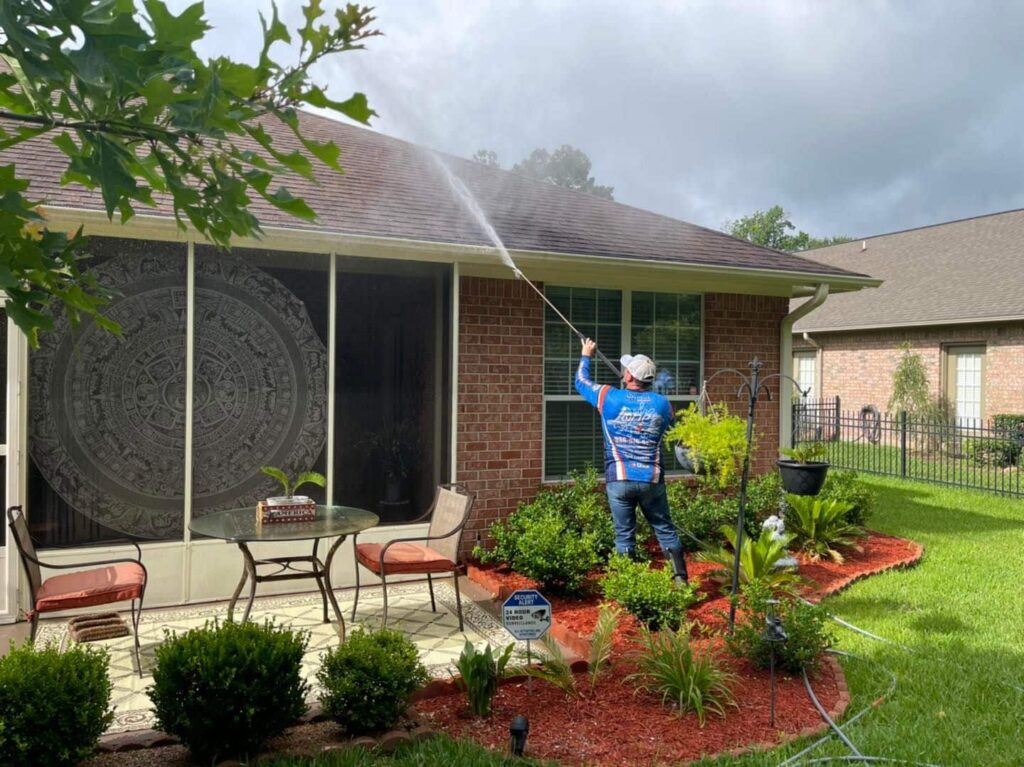 Local. Trusted. Family Owned.
Professional House Pressure Washing
Call Today for
Cleveland House Power Washing Near Me
The weather here on the Gulf Coast is another factor for property owners to consider. It can be extremely hot, and the salt and other detritus can sometimes be so thick that it seems baked on. Equipment for pressure and power cleaning is pricey, mainly if you use a hot water machine. Purchasing a device from your neighborhood supercenter won't have nearly the power of professional-grade equipment. Having our qualified team come out and do the task is quite affordable regarding power washing throughout the Gulf Coast. We can make your property appear brand new with a bit of know-how and our top-tier Cleveland, TX house washing services. Your search for Cleveland house washing near me is over! Call today to see how we can make your home's exterior beautiful again!