Local. Trusted. Family Owned.
Roof Washing Nacogdoches, TX
Roof Pressure Washing
Nacogdoches, TX Residents Trust
Power washing your roof is a difficult task that most homeowners prefer to not do themselves. It's best to leave this job to the professionals. It can be difficult to navigate the steep angles of a roof without causing harm or damage. Not to mention, being on your roof can be dangerous. You mustn't take the risk of getting hurt when you can count on us to provide affordable and reliable roof power washing services. At Lopez Pressure Wash, we have the training and experience to do the job right. We provide roof washing Nacogdoches, TX residents trust!
As a roof cleaning company, you can rest assured knowing that we at Lopez Pressure Wash are a reliable and trustworthy company that strives to provide you with top results. We understand the importance of keeping your roof clean and in good standing. This is why we take every job we do seriously and professionally. Call today to learn more about our roof pressure washing Nacogdoches, TX services.
Searching for Nacogdoches
Roof Washing Near Me?
If you have been searching for Nacogdoches roof washing near me, then look no further! Organic materials such as; lichen, mold, pollen, mildew, and algae build up over time on the outside of your home and roof. These organic materials can damage the materials on your roof, and they can also be a health hazard. The health issues caused by these materials are allergies and respiratory problems. With these organic materials on your roof, it can be difficult to notice if your roof needs any repairs when the issue is hiding underneath those materials. To ensure that these little issues do not turn into larger ones, routine cleanings are ideal, that way you know what needs to be repaired sooner rather than later. At Lopez Pressure Wash, we will safely, quickly, and effectively clean your roof using products, techniques, and equipment that won't harm it. We offer roof pressure washing Nacogdoches, TX trusts.
Keeping your roof in excellent condition at all times is essential so it can continue doing its job in protecting you and your loved ones. Our routine power washing roof services can extend the life of your roof, eliminate the risks that come with having organic materials on your roof, and save you on potential repair costs. Our roof power washing services will ensure that your roof stays healthy, clean, and in good standing. With our team, you no longer need to look for roof power washing near me. You can count on us, as we provide the best roof washing Nacogdoches, TX offers.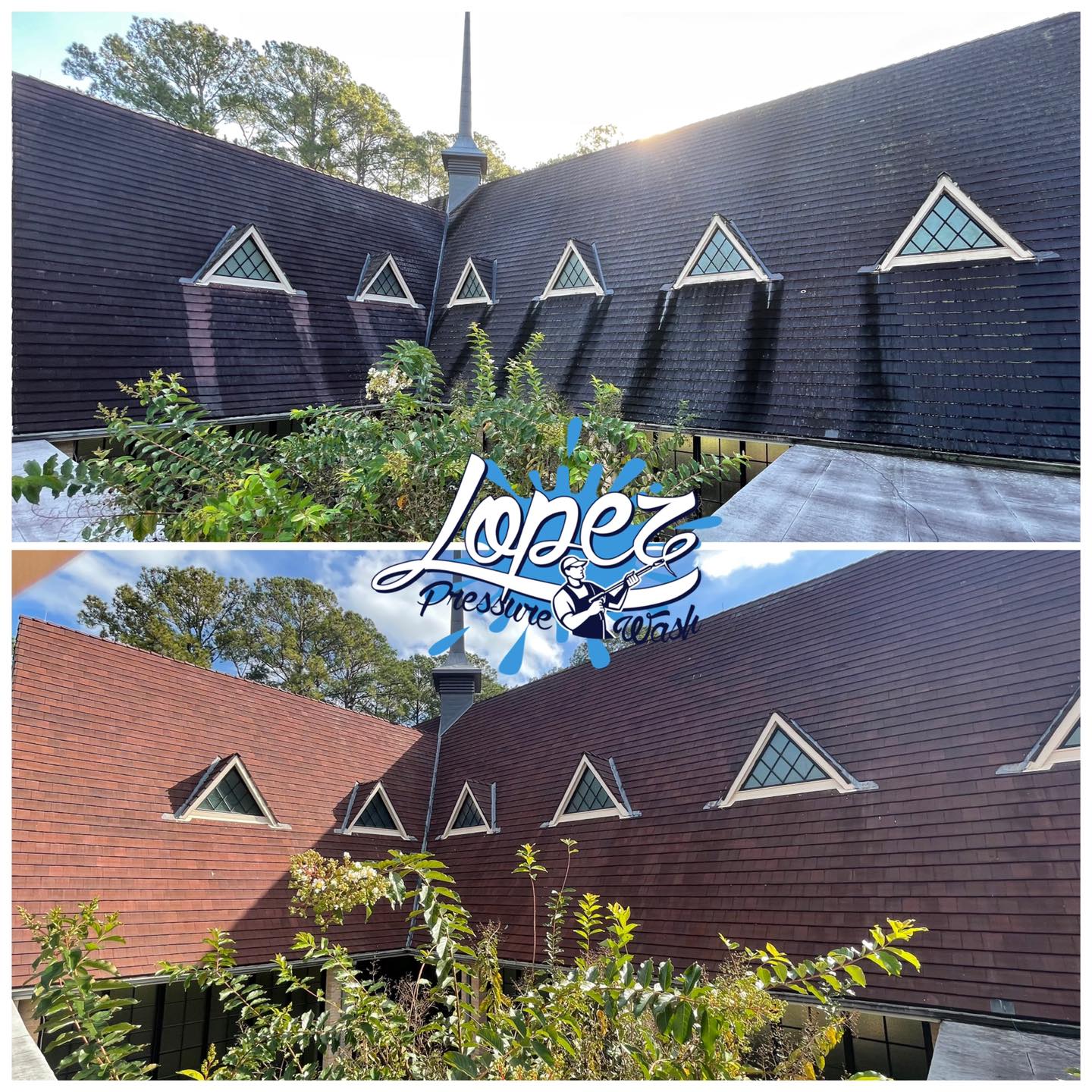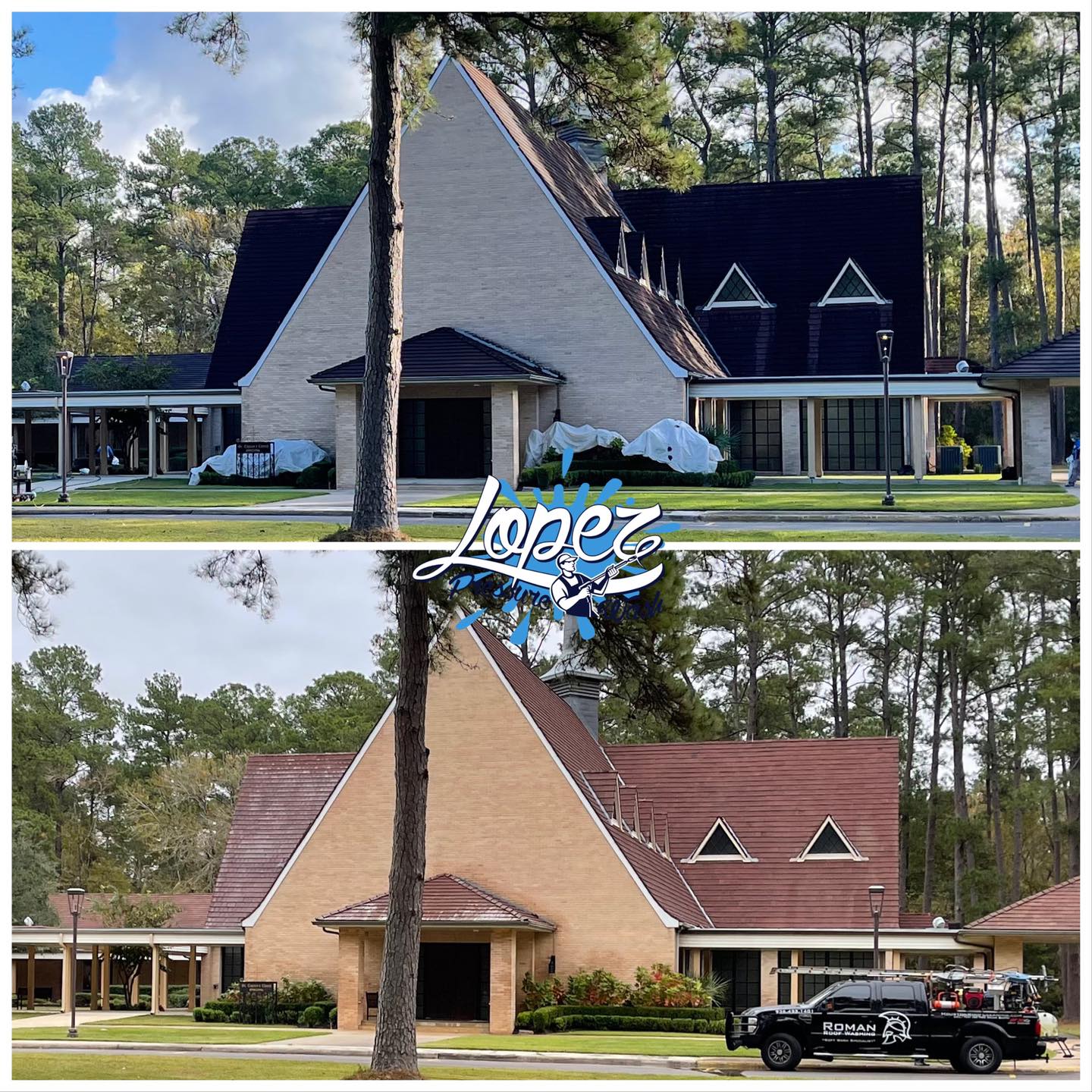 Local. Trusted. Family Owned.
Professional Roof Pressure Washing Nacogdoches, TX Trusts
Call Today for Nacogdoches
Roof Power Washing Near Me
If you're trying to sell your home, one way to get your home ready is to have your roof pressure washed. One of the best times to clean it is before you sell it. This way your home looks more presentable and clean to future buyers. With us, you no longer need to search for Nacogdoches roof washing near me.
Our roof soft washing technique involves using a low-pressure water application to carefully and safely remove organic materials on your roof without causing damage. Using this technique compared to standard high-pressure techniques ensure that the shingles on your roof and other materials will stay intact and unharmed. When it comes to the roof washing cost, it's an affordable service that's less expensive than needing to repair or replace your roof. For you to get an accurate price estimate, we offer a free, no-hassle quote.
There are several advantages of routine roof cleanings, such as; they prevent pest infestations, improving the curb appeal of your roof, and more. We at Lopez Pressure Wash have the experience, training, knowledge, and methods needed to deliver the best customer experience and results. We provide the best roof pressure washing Nacogdoches, TX has to offer. Contact our team today regarding our roof washing services or for a free quote!