Local. Trusted. Family Owned.
House Washing Nacogdoches, TX
Searching for Nacogdoches
House Washing Near Me?
If you have been searching for Nacogdoches house washing near me, look no further. Oftentimes, homeowners try to clean or pressure wash their own homes. This can be quite dangerous and in the long run, cause damage to your home. Let us help you and take the stress of cleaning the outside of your home or business off of you with our affordable prices, reliable house pressure washing services, and excellent customer service at Lopez Pressure Wash. If you've been searching for Nacogdoches house washing near me, your search is over with us! We offer house washing Nacogdoches, TX locals swear by.
The exterior surfaces of your roof and home become aged, dull, and dirty over time. Organic materials such as; moss, lichen, mildew, mold, and algae tend to spread and build up quickly. Unfortunately, these materials not only visually affect your home, but they can also cause a significant amount of damage to your home and property. To make matters worse, they can affect the health and safety of you and your family. The health issues that these organic materials can cause are allergies and respiratory issues. The best way to remove these organic materials is with our pressure washing house service. Call today for soft washing Nacogdoches, TX trusts!
Soft Washing
Nacogdoches, TX Residents Trust
With routine exterior house washing cleanings, you will not only improve the curb appeal of your house but you will also prevent health risks that are associated with those organic materials. Routine cleanings will also prevent the materials of your home from giving in to wear and tear faster than if the outside of your home wasn't well-maintained. If you don't have the materials on the outside of your home regularly cleaned, those surfaces will likely wear out and need to be replaced quicker than those that are well-maintained. With our team, you no longer need to search for house pressure washing near me. You can count on us! At Lopez Pressure Wash, you can trust that we will make this process a stress-free and smooth one for you. One thing that makes us stand out from other companies in the area is we are mindful of your landscaping when pressure washing your home. We understand that your landscaping is important, and we will treat it with care. We provide house washing Nacogdoches, TX residents trust!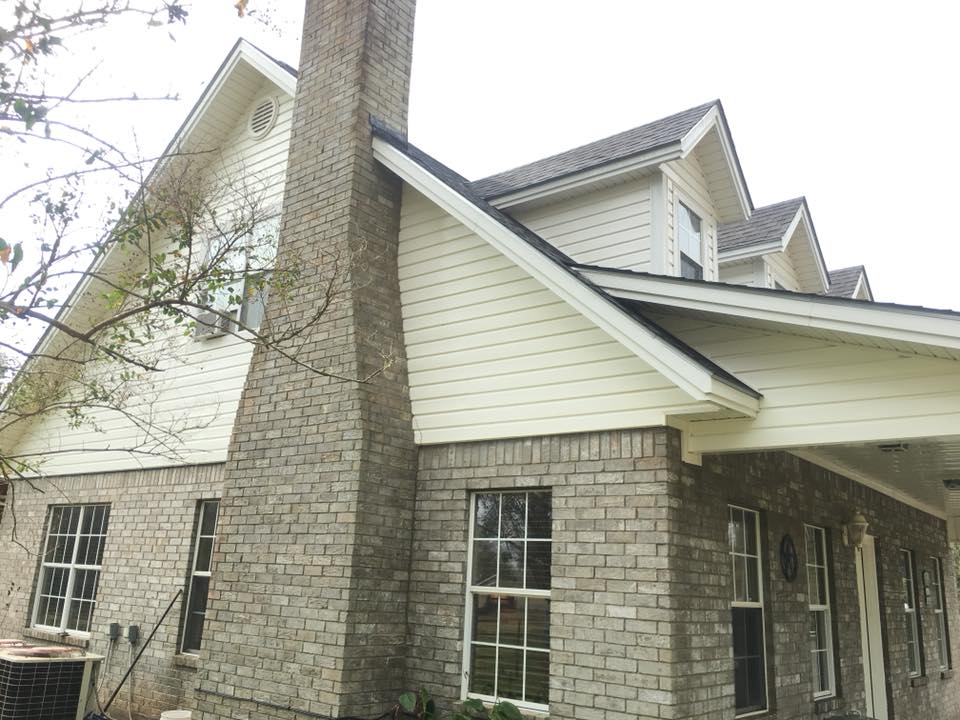 Local. Trusted. Family Owned.
Professional House Pressure Washing Nacogdoches, TX Locals Love
Call Today for
Nacogdoches House Power Washing Near Me
When it comes to using the appropriate technique to clean the outside of your home, the right technique must be used. Discoloration, damage to your home's materials, and more could affect your home due to using the wrong method. This is why having the right company on your side is important. At Lopez Pressure Wash, we are knowledgeable about our equipment and techniques. When traditional high-pressure washes are used on fragile materials, they can dent aluminum siding, chip soft brick, loosen roofing tiles, and shatter windows. The standard high-pressure method should only be used on hardscapes. Soft washing is used for fragile materials such as; your roof, siding, windows, and more. This is a safe and effective way to carefully remove organic materials, dirt, and grime from the outside of your home without causing damage. Have you been looking for soft washing near me? Look no further than our team, as we provide the best soft washing Nacogdoches, TX has to offer.
Are you in need of power washing house services? If you've been looking for house power washing near me, your search is over with Lopez Pressure Wash. You can rest assured knowing that you can expect reliable services, top-notch results, and first-class customer service. For more information regarding our house washing services, the other services we provide, or for a free quote, make sure you reach out to our team today. Stop searching for Nacogdoches house washing near me and give us a call. We look forward to hearing from you!